Democratising Mathematics Education through Digital Learning and Artificial Intelligence
Sarah@outnumber.app, Research Editor, 15 May 2021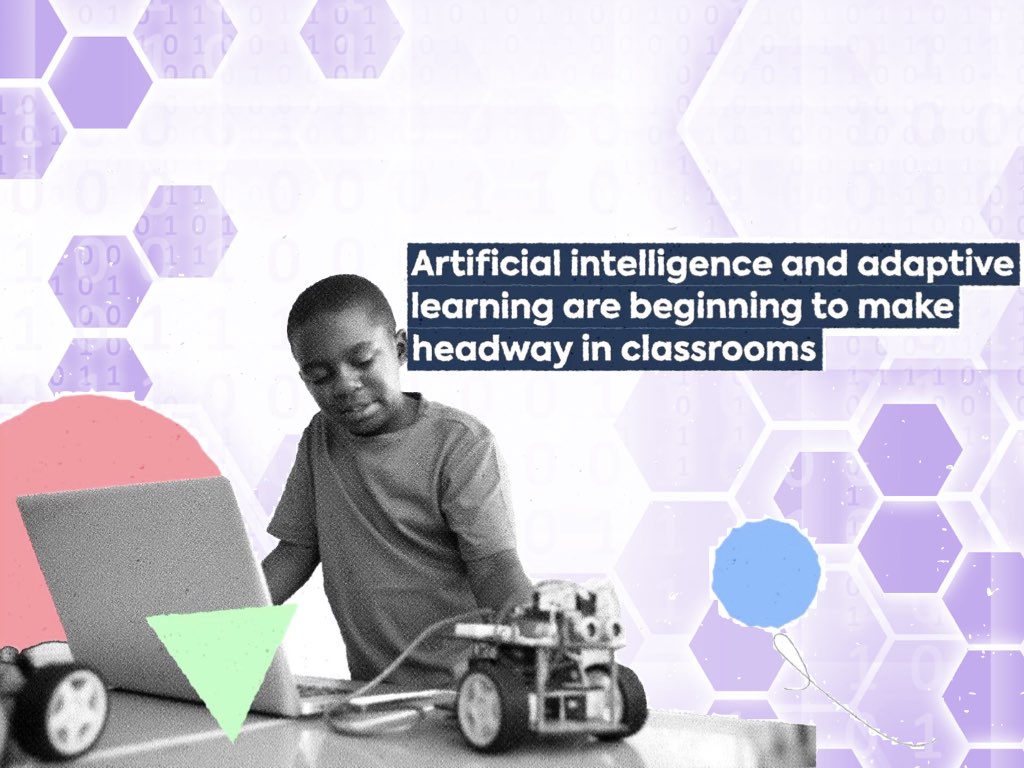 Technology has been responsible for some of the biggest advancements in industries over the last decade. Communications, manufacturing and healthcare have all benefitted from digital innovation¹. The rise of mobile and social media users further highlights how technology has seamlessly integrated into our daily lives. However, one sector that has yet to be revolutionised by the latest advancements of the digital age is education². Whilst tech is increasingly more present in the classroom, it's not currently creating a huge impact on learning. Through our series of articles, we have explored the potential of digital tools to overhaul mathematical curriculums and play a central role in delivering a 21st-century skill set to students. The main takeaway is that how we use technology is the key to its effectiveness. In this article, we further delve into tech's potential to make a modern-day mathematics education accessible to all students, particularly via artificial intelligence.
Technology's Role in Democratising Mathematics Education
Integrating tech into mathematics learning helps to develop flexible thinkers, paving the way for the creativity demanded by the modern-day and future workplace. Through encouraging exploration and facilitating individualisation, tech can assist in delivering the subject in a way that is conducive to the true definition of learning. Unfortunately, technology is not currently being used to its full potential as a learning tool³. One example of this is the shortcomings of maths education to harness the potential of mobile phone learning or m-learning. Smartphones are ubiquitous in today's society, even amongst school-age students. Apps have transformed the way we bank, connect with others and even learn. However, when it comes to bringing mobiles into formal education there is currently no consensus on how to connect the two. Concerns around safety and availability currently hold back this tech and education integration. However, a report by UNESCO predicts that smartphones will become more available, particularly in the next 15 or so years³. Therefore, to make m-learning a mathematics education mainstay, curriculum stagnancy needs to be addressed. The need for curriculums to catch-up to today's societal demands and utilise innovative technology, such as mobiles, is particularly highlighted when it comes to considering those from more disadvantaged backgrounds.
Socio-Economic Status (SES) and Access to Technology
The impact on learning in childhood for low-SES students has lasting effects. The American Psychological Association (APA) finds that compared to children with a higher-SES, learners from disadvantaged backgrounds are:
✘ More likely to be disinterested in school; ✘ More likely to face career barriers; ✘ Less likely to have access to resources to prepare them for employment; ✘ Less likely to be successful in STEM subjects; ✘ And are less likely to be taught by sufficiently qualified educators⁴.
The majority of these outcomes can be positively influenced through tech, with many studies highlighting a close link between SES and access to digital tools. Tech has been found to improve learning experiences, through extending student's knowledge of the world and engaging them in education⁵. Not to mention, technology can facilitate effective teaching where under-qualified staff are falling short. Schools themselves play an important role in impacting outcomes for low-SES students, with 'increased funding and resources' being a key factor in improving the quality of education for these learners⁴. Institute's roles in providing adequate tech resources are particularly critical when we consider that computer access in the home is also connected to SES⁶. Where internet access is available at home, the OECD finds that 'low-educated Internet users spent more time on line in their spare time, but those with higher social status used the Internet in more beneficial ways.⁶' School status also correlated with computer use, with research finding that higher-performing schools utilise computers more often than poorer performing schools⁵. Therefore, schools not only need to provide regular access to tech but also implement it effectively into the curriculum to ensure that all learners understand and benefit from its full potential. The problem remains that some educators still don't have the know-how to confidently use innovative tech in their classroom practices; this is where the private sector can step in.
How Private Sector EdTech Companies Can Bridge Curriculum Gaps
Technology could hold the key to democratising mathematics education, providing a vital resource for both effective and modern learning, whilst ensuring low-SES students aren't left behind. Aside from a lack of technological training amongst teachers, technology is simply not taken into account in mathematics curriculums. Educators are therefore not always able to see the connections between what they're teaching and the digital tools they have access to⁶. To make tech a main consideration for mathematics teaching, curriculum implementation is necessary. The OECD found that only 32% of pupils, on average, attend schools which have a policy in place guiding teachers on how to use computers in mathematics⁷. However, the degree to which these policies impact the use of technology is weak at best. Findings showed that the frequency and use of tech in the subject are more dependent on the teacher than the policies themselves⁷. The struggle to integrate technology into education is a problem not seen in higher education. Universities seem willing to make tech an integral part of the student experience. The use of chatbots appears to be a favourable way in which to make information access easier for students, whilst simultaneously reducing admin tasks for teaching staff⁸. An increase in the availability of online courses has revolutionised the idea of university study and widened the student demographic. Remotely-accessed, high-quality university degrees further highlight how tech can democratise education. These are benefits not currently seen in the mainstream schooling system, however, private sector EdTech startups can bridge the gaps. Technological tools such as apps and programs can help to make tech more classroom-friendly, aiding in contextual learning and incorporating effective cognitive strategies. By presenting solutions that are user-friendly, engaging and outcome-improving, educators and policymakers are more able to see the benefits of technology and how it can transform and integrate into a modern mathematics curriculum. A growing trend in technology, which poses great potential for the education sector, is artificial intelligence.
What Role Can Artificial Intelligence Play in Mathematics Learning & Teaching?
Artificial intelligence, also known as AI, is tech that is more 'human-like' than non-AI technology. Through its own learning and improvement, AI is able 'to enhance its capabilities and its knowledge.⁹' It's already being utilised in other industries to fuel innovation and user-experience, with AI powering popular home virtual assistant devices⁹. In regards to education, AI can effectively infuse technology into curriculums whilst also putting the focus back onto teaching and learning. A recent study into how teachers spend their time revealed that less than half of working hours are spent engaged directly with students¹⁰, with admin partly to blame. However, student-teacher relationships are still an important part of traditional schooling. By incorporating AI, automation can free up the time for educators to build a positive rapport with learners and reduce 'educational inequalities'¹⁰. Aside from automation, AI can also fulfil roles and bridge gaps where education systems are lacking. Inadequate numbers of qualified teaching staff and teacher shortages can lead to knowledge deficits, or in some scenarios, a complete lack of maths education¹¹. Here AI could provide high-level teaching to students, ensuring learners don't miss out on essential 21st-century mathematical skills and the jobs that demand them. The efficacy of AI in schools is already being seen in Japan, where robots are teaching English as a foreign language. By directly interacting with students, the bots are able to break down many common language-learning barriers, such as confidence in speaking practice¹². AI's potential expands beyond the realms of stereotypical schooling institutions. Homeschooling can also benefit, with AI making high-class and affordable mathematics teaching accessible to all. Whilst AI in education is still in its early development phase, there are 4 main ways in which this modern-day adaptive technology could transform the learning of mathematics:
1. Intelligent Adaptive Learning
AI's 'human-like' capabilities mean that it's able to adapt to each user at hand, using algorithms currently utilised by tech giants. In an educational setting, this translates to a unique user experience, with AI tailoring content and challenge level to suit each learner. By personalising mathematics to the individual, education becomes more accessible and engaging, with AI improving 'learning efficiency and enthusiasm'¹³.
2. Educational Data Analytics
The capability of AI to collect a wealth of data allows education to become more responsive on the individual level than ever before. Sophisticated progress tracking can assist teachers to action appropriate interventions and hone in on effective learning techniques. AI analysis of collected data means learning pathways can be further personalised for each student, placing focus back onto self-growth rather than feelings of classroom competitiveness or inadequacy¹³.
3. Mobile and Web Technologies
As touched upon previously, mobiles could potentially play a large role in modernising mathematics learning, particularly as more people have access to mobiles than PCs¹⁴. AI-powered mobile programs are one way in which to bring engaging tech-based resources into the classroom which incorporate cognitive learning strategies, such as dual coding. The route of gamification, as taken by many educational apps, helps to increase student engagement. It's a strategy that has already proven effective, particularly in the case of the language-learning app Duolingo. Research has found that 34 hours spent on the application equates to a whole university semester of language learning¹⁵.
4. Speech and Translation
Translating algorithms have the ability to make content accessible for all, particularly where English is a second language, further working to democratise mathematics education. Furthermore, increasing advancements in speech recognition technology could help to provide equal learning opportunities by increasing inclusivity for those with disabilities¹⁶.
An AI-enriched Mathematics Curriculum
"The development of AI in education is still seeing bright prospects. To better implement AI-based education and make it the future of education, we need to rethink the role of AI and education in society¹³"
AI could hold the key to both modernising and democratising mathematics education. Introducing more tech into the classroom is vital for improving outcomes and providing more opportunities for disadvantaged students during their educational years and beyond. It's here where AI's personalisation abilities truly stand-out, revolutionising learning and teaching, as well as bridging gaps to ensure equal opportunities. By narrowing gaps and making high-quality teaching and learning available to all, learners are better equipped for modern-day demands. However, the growth of AI is dependent on long-term efforts, with educator feedback working to further refine its place in education. In the meantime, it's up to private sector EdTech start-ups to provide innovative, engaging and data-driven solutions to provide the tech-based learning required for modern-day life. Through embracing modern-day innovation we can fuel future innovation - effectively instilling a mathematical skill set that is integral to education, work and society.
Outnumber helps develop flexible learners and non-linear thinkers. With Outnumber children can have easy-to-follow learning roadmaps, user-friendly progress trackers and interactive microlessons that provide instant feedback, making learning more engaging.
✓ 4 Core Numeracy Strands to promote key 21st Century Skills ✓ 7 Levels aligned with primary learning age (4–11 years) ✓ 285+ Learning Outcomes curated from leading national curriculums ✓ 1000+ Bite-size Guided Lessons with progress trackers ✓ 5000+ Interactive Problems that promote number sense and reasoning ✓ Onyx Learning Assistant powered by Qognitive Technology
References: 1. Palandrani, P. and Little, A., 2020. A Decade Of Change: How Tech Evolved In The 2010S And What'S In Store For The 2020S. [online] Global X ETFs. Available at: <https://www.globalxetfs.com/a-decade-of-change-how-tech-evolved-in-the-2010s-and-whats-in-store-for-the-2020s/> [Accessed 5 May 2020]. 2. Owen, J., 2019. Harnessing The Power Of Edtech In Schools. [online] Education Technology. Available at: <https://edtechnology.co.uk/comments/harnessing-the-power-of-edtech-in-schools/> [Accessed 5 May 2020]. 3. UNESCO, The Future of mobile learning: implications for policy makers and planners, https://unesdoc.unesco.org/ark:/48223/pf0000219637, 2013. 4. https://www.apa.org. 2017. Education And Socioeconomic Status Factsheet. [online] Available at: <https://www.apa.org/pi/ses/resources/publications/education> [Accessed 5 May 2020]. 5. Avenia, T. (2012). Socioeconomic factors, the use of technology in teaching and learning, and the impact on achievement: A critical review of the research. The University of British Columbia, Vancouver, BC 6. Peachey, N., 2016. 11 Reasons Why Teachers Don't Use Technology. [online] LinkedIn. Available at: <https://www.linkedin.com/pulse/11-reasons-why-teachers-dont-use-technology-nik-peachey/> [Accessed 5 May 2020]. 7. OECD (2015), Students, Computers and Learning: Making the Connection, PISA, OECD Publishing, Paris, https://doi.org/10.1787/9789264239555-en. 8. Larsson, N., 2019. 'It's An Educational Revolution': How AI Is Transforming University Life. [online] The Guardian. Available at: <https://www.theguardian.com/education/2019/apr/17/its-an-educational-revolution-how-ai-is-transforming-university-life> [Accessed 5 May 2020]. 9. Adams, R., 2017. 10 Powerful Examples Of Artificial Intelligence In Use Today. [online] Forbes. Available at: <https://www.forbes.com/sites/robertadams/2017/01/10/10-powerful-examples-of-artificial-intelligence-in-use-today/#3d443dfe420d> [Accessed 5 May 2020]. 10. McKinsey & Company, 2020. How Artificial Intelligence Will Impact K-12 Teachers. [online] McKinsey & Company. Available at: <https://www.mckinsey.com/~/media/McKinsey/Industries/Social%20Sector/Our%20Insights/How%20artificial%20intelligence%20will%20impact%20K%2012%20teachers/How-artificial-intelligence-will-impact-K-12-teachers.ashx> [Accessed 5 May 2020]. 11. Atkinson, K., n.d. Can The Future Of Artificial Intelligence Solve The Teacher Crisis?. [online] TTRO. Available at: <https://www.ttro.com/blog/technology/can-the-future-of-artificial-intelligence-solve-the-teacher-crisis/> [Accessed 5 May 2020]. 12. van Hooijdonk, R., 2019. AI Can Help Educators To Improve Teaching And Learning. [online] Medium. Available at: <https://becominghuman.ai/ai-can-help-educators-to-improve-teaching-and-learning-50e8b6b1c7d1> [Accessed 5 May 2020]. 13. Deloitte, 2019. Global Development Of AI-Based Education. 14. Mad4Digital. 2018. Edutech Feature: How Technology Is Set To Disrupt Education. [online] Available at: <https://www.mad4digital.com/digital-strategy/edu-tech-distruption> [Accessed 5 May 2020]. 15. Vesselinov, R., 2012. Duolingo Effectiveness Study, Final Report. [online] Available at: <https://static.duolingo.com/s3/DuolingoReport_Final.pdf> [Accessed 5 May 2020]. 16. Umoh, R., 2019. How Google Is Using AI To Make Voice Recognition Work For People With Disabilities. [online] Forbes. Available at: <https://www.forbes.com/sites/ruthumoh/2019/06/10/how-google-is-using-ai-to-make-voice-recognition-work-for-the-disabled/#6dfe7c6d3c3e> [Accessed 5 May 2020].